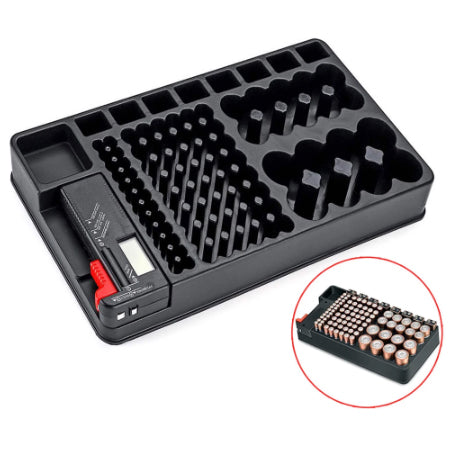 Battery Holder with Battery Tester Voltage Meter Tool for AA AAA C D 9V Batteries
Battery Tester (Analogue) Voltage Meter Tool for AA AAA C D 9V and CR2032 etc Coin Batteries
Test the voltage of all standard types of 1.5V battery (AAA AA C & D) as well as 9V batteries, and 3V coin batteries like CR2032 CR2025 CR2016 etc.

If you are continually frustrated with which batteries are okay or not, get one of these!

BATBT168A BAT01 Analogue / Analog  .
We use these testers ourselves, and they are super compact and light with, and easy for travel too if needed.  
Size 110x60x28mm

Suitable for:

9V: PP3, MN1604, 6F22, 006P

1.5V: AAA, HP16, MN2400, R03 AA, HP7, MN1500, UM3 C, HP11, MN1400, SP11, LR14, UM2 D, HP2, MN1300, SP2, R20, UM1
All kinds of button cell or "coin" batteries
---
We Also Recommend