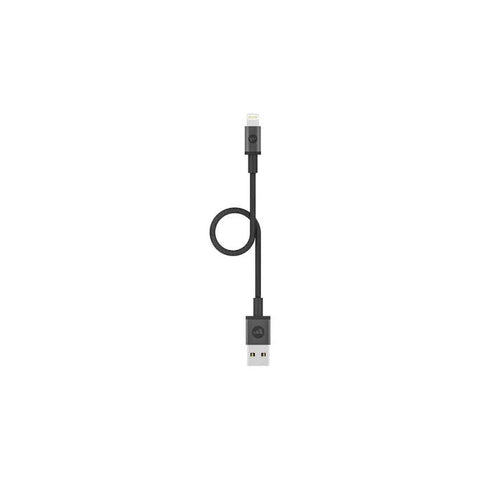 Mophie USB-A to Lightning Cable 9cm (Black) 90mm/0.09M
Mophie USB-A to Lightning Cable 9cm (Black) 90mm/0.09M
Being extra short, this cable is perfect for connecting to battery packs etc!
For charging devices with Lightning port, such as Apple iPhone, from a USB-A standard USB port.
409903218 848467093759 .
Suitable for:
Apple iPhone (with Lightning port)
Apple iPad (with Lightning port
Apple iPod (with Lightning port)
 Features:
Only 9cm! / 90mm Super Short!
Durable Connectors: 

Durable, anodized matte aluminium connectors stand up to everyday use.



Durable Braided Cable: 

Durable, braided nylon exterior helps to protect against wear and tear.

Reinforced Armoured Core:

Adds durability to the cable while maintaining flexibility for use in tight areas.



MOP409903218 409903218 848467093759 .
9cm lightning cable / 9cm usb cable / 9cm iPhone cable / 9cm iPad cable .
---
We Also Recommend